We believe that Australia's energy future will be affordable and smart – delivered from renewable sources that are backed by flexible energy storage technologies which come together to power our homes, businesses and vehicles. Importantly, it will be low emissions based.
As Australia's largest and oldest integrated electricity generator and retailer, AGL is in a unique position to contribute to this future for Australia, and make a meaningful impact on the country's decarbonisation.
Not only do our coal and gas fired generators ensure Australia's lights remain on, they provide the financial strength for AGL to progress the transition.
We remain committed to the established timelines for the full closure of our coal-fired power stations and our promise to tackle the challenges associated with this transition with our workforce, and in the communities where we operate.
AGL recognises three major forces driving Australia's energy transition: customer demand, how communities act, and how technology evolves. Our Climate Statement will shape AGL's portfolio management, supply and technology investment, and customer offerings, and outlines five commitments: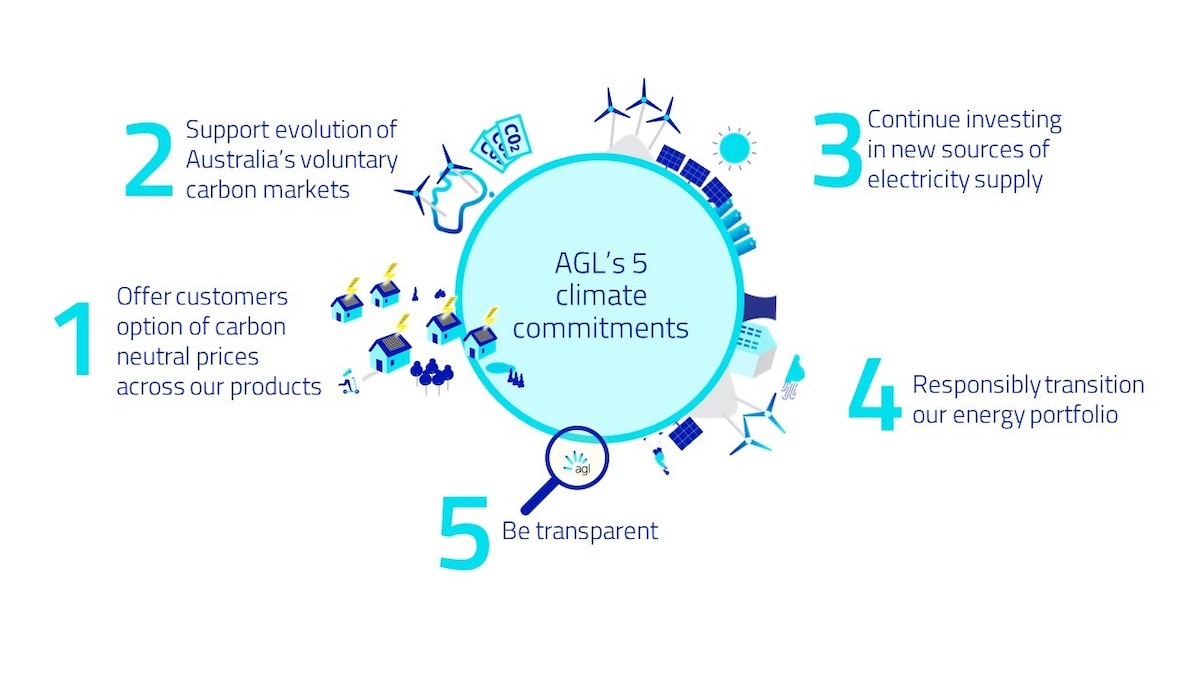 Back to top >>
In 2015, AGL committed via its Greenhouse Gas Policy not to extend the life of its coal-fired power plants.
As we work toward the full closure of these plants and the Australian economy transitions toward full decarbonisation by 2050, we will continue to run our coal-fired power stations responsibly and safely to supply affordable and reliable electricity, and we will continue supplying gas to our customers.
We will support our people and local communities through change and remain flexible to how customers, community and technology shape the pace of the energy transition.
Back to top >>
Our approach to the closure and rehabilitation of assets is guided by the following underlying principles:
Transparency: We provide stakeholders with information to enable better understanding of the issues related to closure and rehabilitation of our sites
Engagement: We will undertake ongoing engagement with stakeholders to ensure a diverse range of views are considered in closure and rehabilitation plans and activities
Accountability: We will publish relevant information at least annually to enable external assessment of rehabilitation activities
In 2018, we released our Rehabilitation Report, a detailed review of the technical characteristics and costs of rehabilitating our Liddell, Bayswater and Torrens Island power stations to a state as near to pre-development condition as practicable. The report also assessed the costs of rehabilitating the AGL Loy Yang mine and power station as identified in the final closure plan agreed with the Victorian Government.
We're working with our communities on a transition that's inclusive of all.
AGL Macquarie Power Stations
AGL Macquarie is one of Australia's major electricity generators. Around 620 people work at its 2,640 MW Bayswater power station and 2,000 MW (available 1,680 MW) Liddell power station.
Torrens Island Power Station
Delivering a safe, reliable supply of electricity into the South Australian market.
Loy Yang Mine and A Station
Producing enough power to supply over 2 million average Australian homes every year.
Back to top >>
AGL understands that we don't always get it right, and we want to be informed when we don't. If you would like to provide any feedback, good or bad, or simply ask some questions, please feel free to get in touch via the following channels:
AGL Community Complaints and Enquiries Hotline: 1800 039 600
Email: AGLCommunity@agl.com.au
Mail: AGL Community Complaints & Enquiries, Locked Bag 14120 MCMC, Melbourne VIC 8001
Ask our Online Forum
The AGL Online Community Engagement Forum is a place to ask questions, provide feedback, or discuss anything about AGL's operational sites and the communities in which we operate.