Read your energy bill

Learn how to read your gas and electricity bill.
Your energy bill explained
When you want to know your bill back to front our bill explainer guide is a great place to start. Find out when and how much you owe, ways to pay your bill, whether your bill is based on an actual meter read or estimated data and any fees, credits, discounts or solar associated with your account and more. 

How to read your bill
This bill is an example only. You can download and view a bill explainer for your state below. 
Doesn't look like your bill? You might have yet to be switched over to our new-look bill. Don't worry, find your current bill explainer here.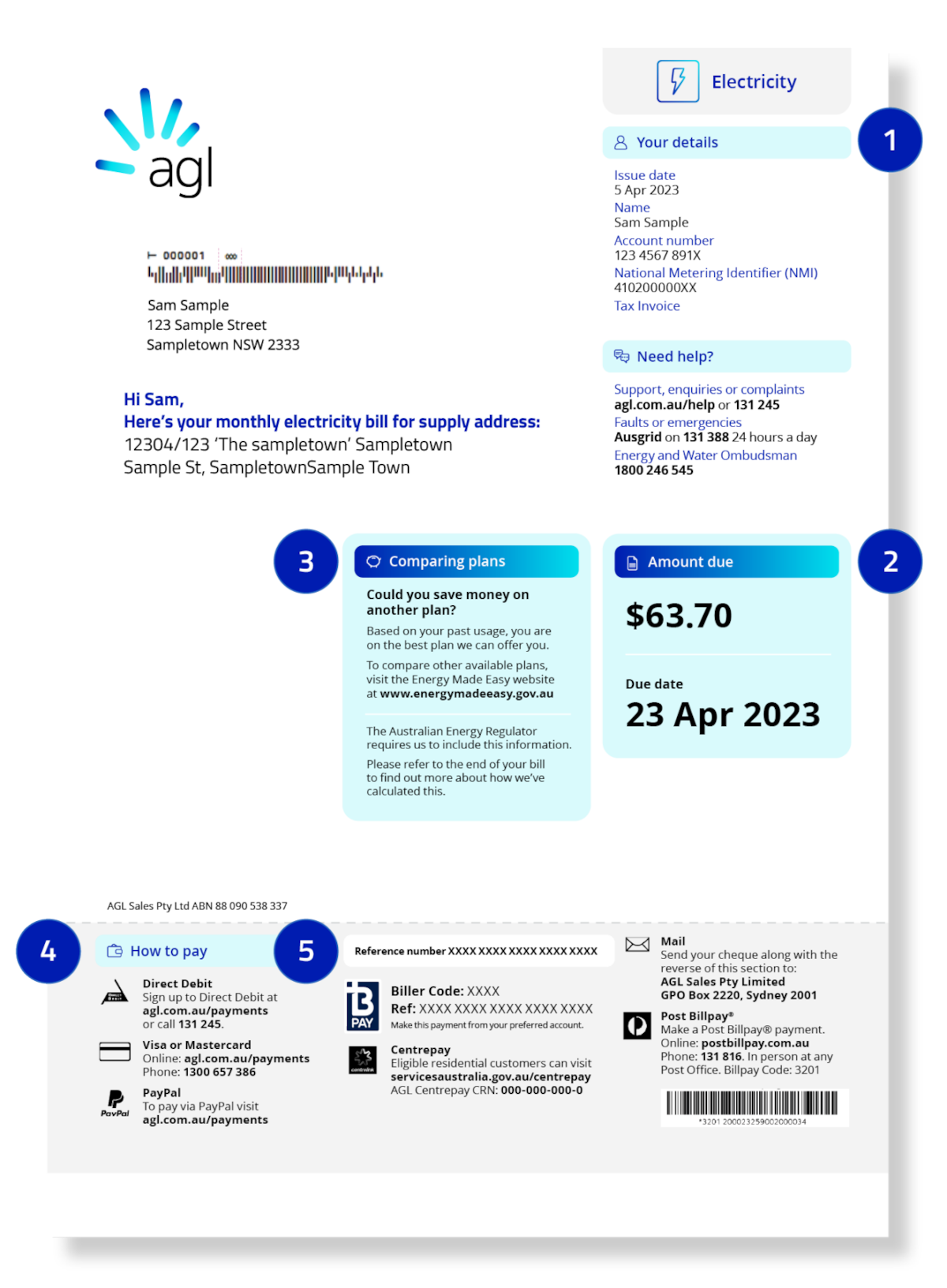 Your account number shown here is specific to your account, and you should quote it when you contact us with any queries. 
This shows the amount you need to pay and the payment date or when your direct debit is due. 
If you are on Bill Smoothing, you'll see your instalment amount and frequency. 
We'll regularly check our generally available plans against your past energy use to see if you're on one of our low cost plans.
We'll let you know if another AGL plan could save you more and how much you may save by switching. If you're already on one of our low cost plans, we'll let you know that too.
Only available for customers in VIC, NSW, SA and QLD. Not available for customers in WA.
We've also made it easy for you to pay your bill online or via the AGL app.
We offer several ways to pay your bill, including Direct Debit, which takes the hassle out of paying your bills and helps ensure you always pay your bills on time.
If you're paying by cheque, remember to cut off this lower section of the bill as marked and include it with the cheque when posting.
If you're paying in person at a post office, present your bill so the barcode can be scanned to record your payment.
You'll find your reference number in the centre of the payment slip. When requested, you'll need to quote this for some payment methods.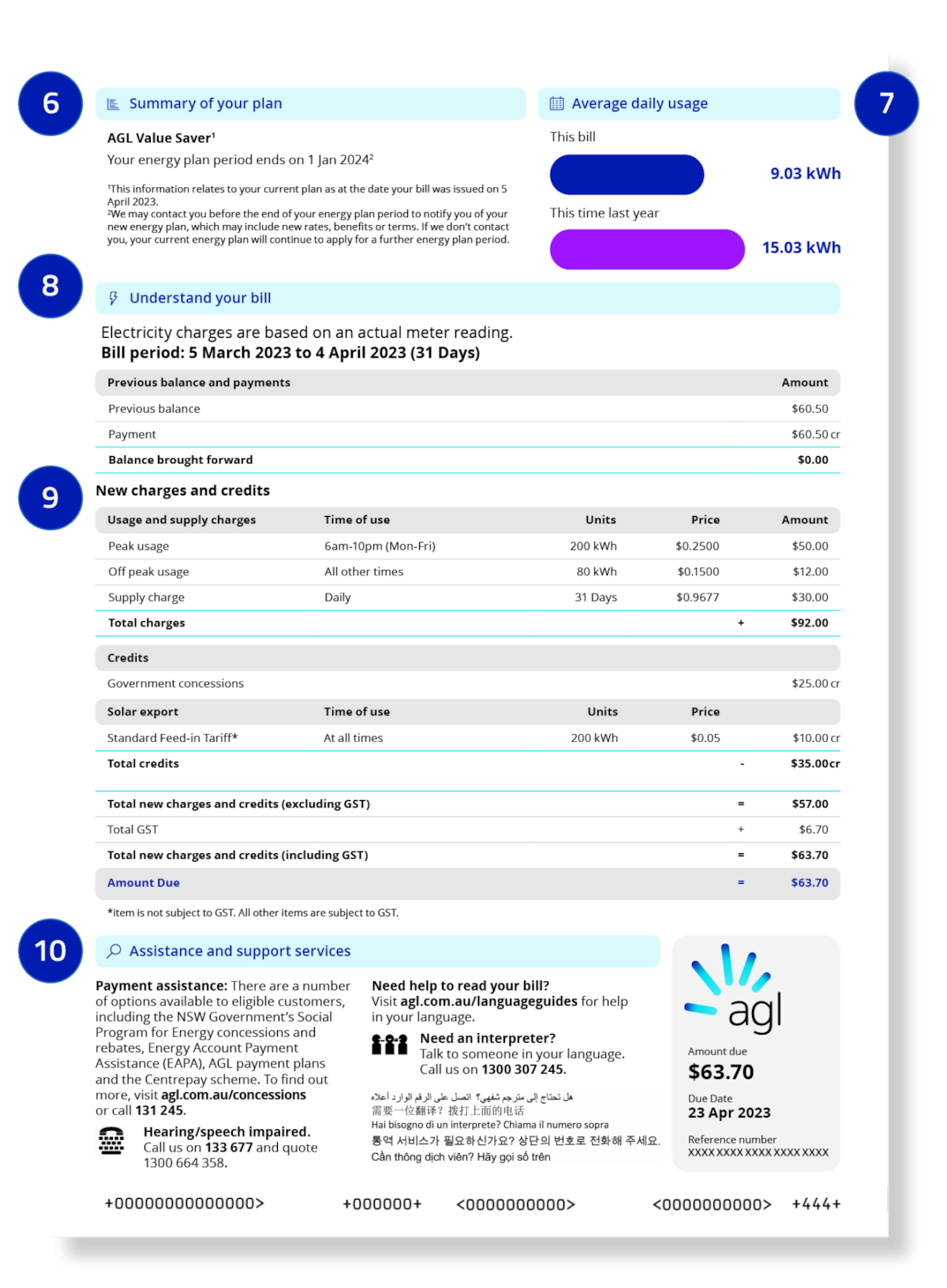 Here you'll find a summary of your plan and its benefits.
Only available for customers in NSW, SA & QLD. Not available for customers in VIC & WA.
This graph compares how much energy you used per day during this period, compared to the same time last year. To track your usage, visit My Account or download the AGL app. 
Here you'll find whether an actual or estimated meter read has been taken. Sometimes we might need to estimate your energy usage rather than bill you on actual usage data. We'll give you more information on how to submit your own meter read if this applies to you. 
Find out more about estimated bills. 
The new charges and credits section is divided into units and prices for this billing period. Time of use shows the time of day that the unit prices apply. We list your new charges for your electricity or gas supply and usage, plus any credits, discounts, concessions, solar export and adjustments we've applied to this bill. The final total charges amount shown here includes the applicable GST.
Here you'll find information about payment assistance and interpreters for getting help in your language.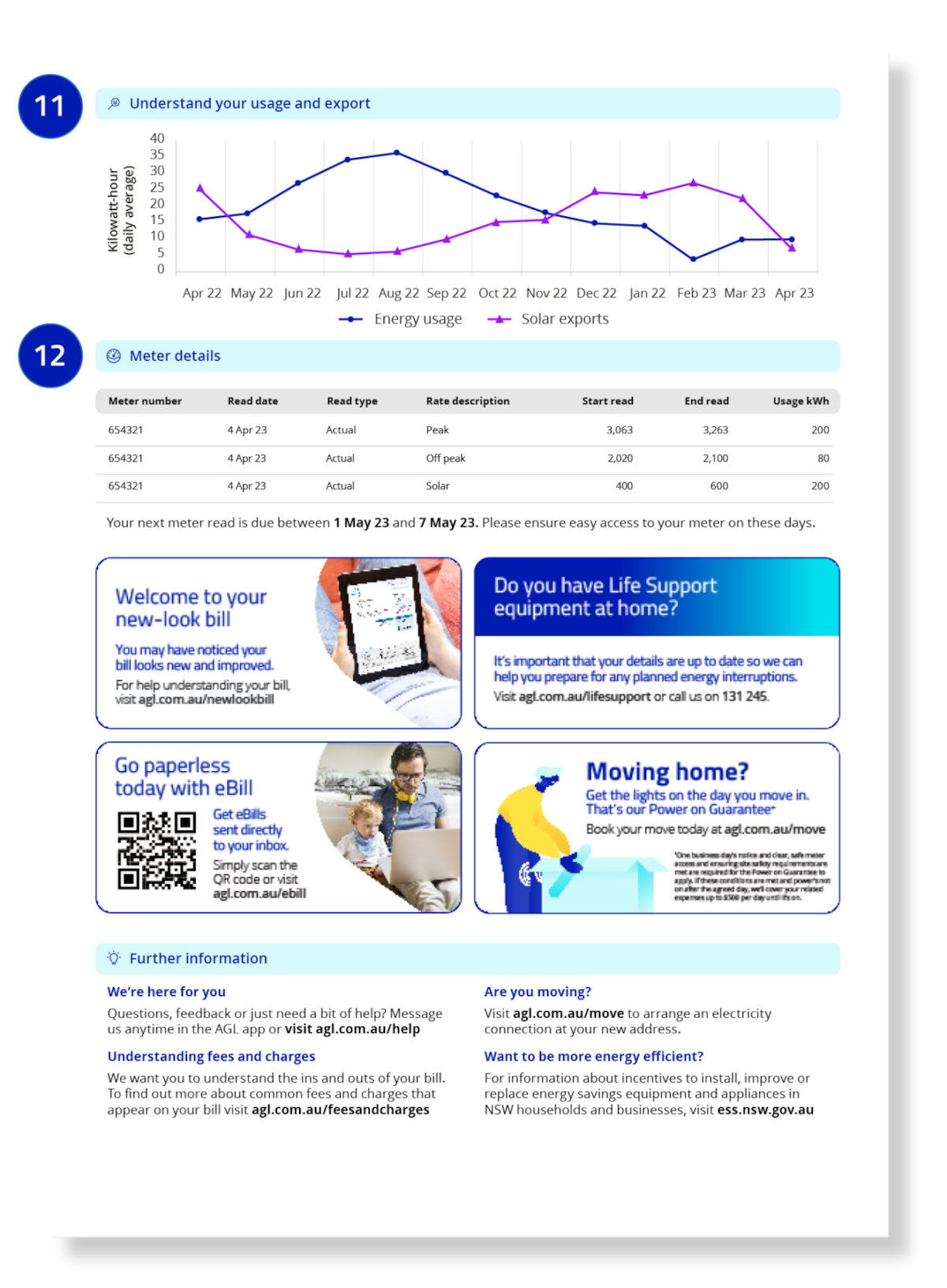 This chart explains how much gas or electricity you have used over the past 12 months (unless you've joined recently). The blue line in the chart shows your monthly energy usage, while the purple line shows your energy export to the grid. This purple line will only appear if you have solar.
In this section, you'll find your meter read details. These are used to calculate your energy bill for the billing period. If you have a smart meter, the reading will be a guide only and may not reflect the total amount of energy you have used in this billing period. Your bills will be calculated using half-hourly intervals of data provided to us. To see your detailed usage, visit My Account or download the AGL app. 
Under this table, you may also find important messages about your meter, including your next scheduled meter, read date, or any issues encountered when gaining access to your property.
Download the bill explainer best suited to you
You can view a detailed bill explainer for your state below.
We've translated some of our guides into some other languages and Easy English. For more handy guides to make your bills easier to understand, view our translated and Easy English billing guides.
Need help with your eBill?
For information on switching to eBilling, viewing or downloading a PDF of your bill or managing the switch from paper bills, visit eBilling.
Services for customers with vision impairment
We offer a number of services to help customers with vision impairment or low vision.
Electronic billing (PDFs can be enlarged on screen)
Enlarged bills (A3 size)
Document transposition (into a word template for machine readable output)
Voice (we will call you to read out your bill line-by-line) 
To request these services, log in to My Account and message us or contact us.