How the subscription works
We've created a flexible electric vehicle subscription with the included extras you need. So you can drive towards a greener future, without the commitment of owning a car.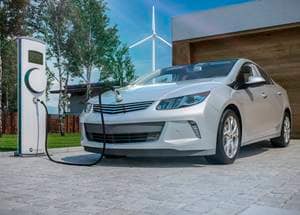 You get the essentials
Your fixed weekly payment will cover the things you need to get rolling - like the car, insurance and maintenance. We'll also manage your charging station.
We'll set you up
Our qualified electrician will set up a charger for you to use during the subscription period and, when they're ready, we'll deliver your new wheels to your door.
Get on the road
You're driving towards a more sustainable future, without the commitment of owning your own electric vehicle.
COVID-19 update
Our delivery team will practice safe, contactless delivery of vehicles and chargers.
Unfortunately, due to Government restrictions, Victorian orders will be waitlisted.
Which cars can I choose from?
We've got four models to choose from (subject to availability). You'll get all the same inclusions, no matter which one you pick.
Nissan leaf
From $299 a week
270km range (WTLP)
40kWH battery
405L cargo volume
Single pedal driving with e-PedalTM
Satellite navigation and reverse camera
Hyundai ioniq
From $299 a week
311km range (WLTP)
38kWH battery
357L cargo volume
Adaptive cruise control
Satellite navigation and reverse camera
Hyundai Kona
From $359 a week
449km driving range (WLTP)
64kWH battery
332L cargo volume
Regenerative breaking
Hyundai SmartSenseTM Safety Features
TESLA MODEL 3
From $599 a week
460km range (NEDC)
50kWH battery
425L cargo volume
Drive a brand new car
Accelerate from 0-100 km/h in as little as 5.6 seconds
Autopilot advanced safety features
How does it compare to buying a car?
The costs of owning a car can really add up. With our subscription, all the important stuff is included in your plan - so there are no expensive surprises.
| | AGL EV subscription | Buying an electric vehicle |
| --- | --- | --- |
| Down payment on the vehicle | | |
| Long term commitment | | |
| Registration | | |
| Insurance | | |
| Roadside assistance | | |
| Repairs and maintenance | | |
| Tyres | | |
| Charger and installation | | |
| Delivery, pick up and expert advice | | |
| Flexibility to swap or upgrade | | |
| Cancel anytime | | |
| Depreciation costs | | |
| Interest on finance | | |
Get started
Be one of the first to get the wheels turning, leave your details and we'll call you to get you set up.
To be eligible, you need to be an AGL customer who's 21 or over, with a valid Australian or international driver license.
You'll need to live within 50km of the CBD and have off-street parking. Get in touch to see which cities are eligible and other geographic criteria.

It's all in the details
Here's exactly what you'll get in your subscription.
You'll get:
A late model electric car with low mileage
Comprehensive car insurance with $2000 excess
24/7 roadside assistance
Standard maintenance on the car, its battery and charger (including tyres, windscreen and wipers)
Installation of a charger at your home
Free electric vehicle changes every six months, based on product availability
Us managing your charging
Climate Active certified carbon neutral electricity offsets
Conditions and charges:
$800 set up fee applies
You'll be invoiced monthly in advance
Price reduction every 12 months
If you miss a payment, we'll charge $27.50 in late fees each week until we get your payment
If you cancel in the first six months, we'll charge $150 fee to cover the cost of removing the charger from your home
If we need to do any structural or groundworks to install your charger, we may charge a fee to cover these costs
Frequently asked questions
Can you install the charger at a rental property?
Yes, as long as you have permission in writing from your landlord.
Can I swap my car or change my subscription option?
Yes, in most cases. We'll generally just need 30 days' notice to organise your new wheels.
Will you offer other types of electric cars?
We're working on it. If new cars become available, we'll let you know.
Are the cars new or used?
They're used cars in mint condition and with a low mileage.
Can I test drive the car before I sign up?
Sorry, we're not offering test drives right now.
When will I get my car?
We'll confirm this when you sign up, but it's usually around 30 days.
When will my charger be installed?
An electrician will be in touch to arrange installation before the car arrives.
How does the car handover work?
You tell us when and where suits you, and we'll arrange a professional handover and training at your home.
Are roadside assistance and insurance included?
Yes, you're covered for 24/7 roadside assistance and insurance (with a $2,000 excess). We'll send you the contract and insurance documents when you sign up, so you can see all the details.
Is general car maintenance covered?
Yes, general maintenance (including tyres) is covered - all the details will be in your contract.
How long is the minimum subscription period?
It's one month. You can cancel one month in advance by emailing us on evsubscriptions@agl.com.au

It's our home of innovation, where our teams, partners and customers collaborate to seek new answers to big questions about how we can live better.